Helpful Advice from a Newcastle Marriage Celebrant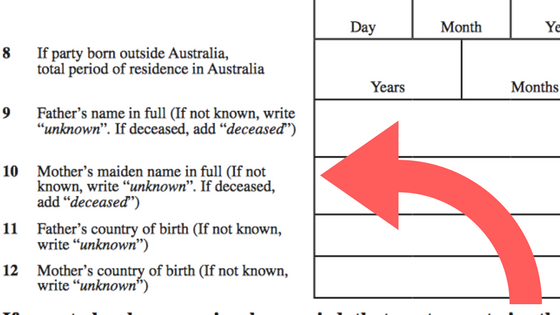 As a Newcastle Celebrant with almost 500 weddings in her registry book, I gotta tell you almost 90% of couples make one simple mistake on the Notice of Intended Marriage and its to do with their Mother's maiden name.
The first mistake is only putting their mother's maiden surname (i.e. SMITH) and not including her first and middle names. (JANE DOE SMITH). After all the explanatory notes do say Mother's maiden name in full
The second most common mistake is write their mother's full married name.
As an example lets say the Brides name is BEYONCE RHIANNA WEST, bride's dad name is KAYNE JAY-Z WEST and Mum and Dad are still married so Mum's name is OPRAH MADONNA WEST. (Cool family huh?) but before Mum and Dad married Mum was OPRAH MADONNA CLINTON.
Often couples complete this section and put OPRAH MADONNA WEST when in fact they should have put OPRAH MADONNA CLINTON. Mum's maiden name in full before she met and married KAYNE.
It is not complicated but forms can be confusing. If in doubt, always check with me first. I'm here to help – its a thing I do for all my couples.