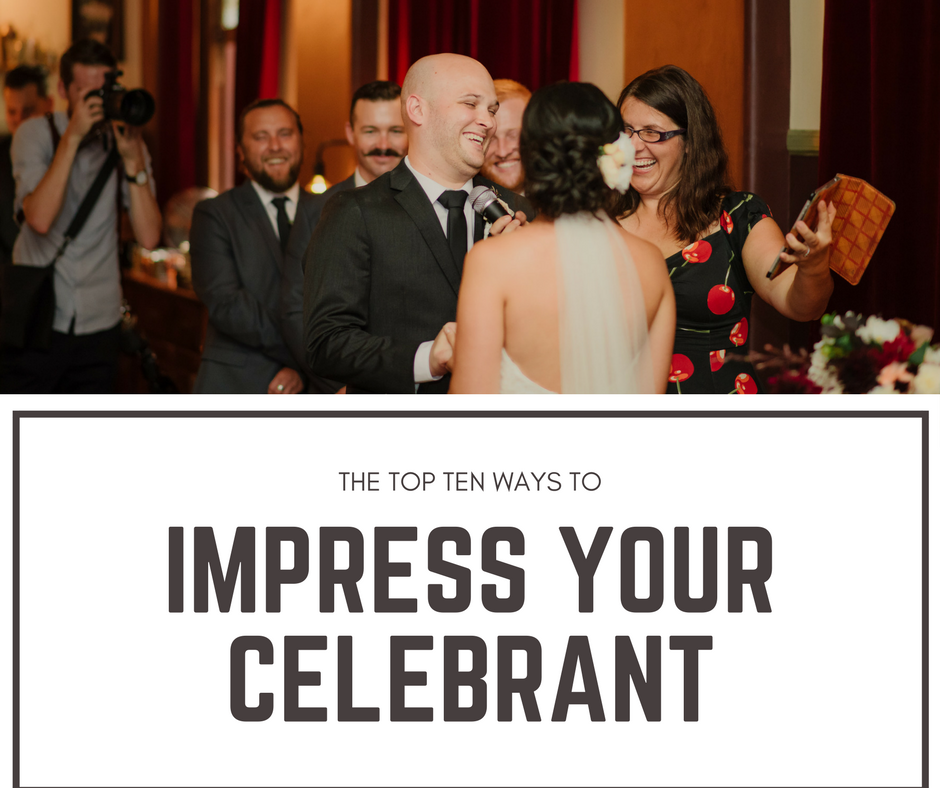 1. Be in
? – nothing gets a celebrant's creative juices flowing like a couple who openly and honestly dig each other to the max.
2. Be inspiring
?– do some research, have some ideas to bring to the table, or better yet have a list of things you DON'T want too. This will help steer your celebrant as to how to best write your ceremony.
3. Be honest – Don't say you like something they have written if you don't. You don't have to yell "THAT'S THE WORST PILE OF
? I'VE EVER READ!" but telling your celebrant "We're not really happy with… blah" will again help them make the right changes so you get a ceremony you love.
4. Be yourselves – Talk about what drives you, what you are passionate about, what you do on the weekends, who you are as individuals and why you work as a couple. Those creative juices that were previously flowing will now be gushing like a teen at a Bieber concert.
?
?
5. Be willing to bend your budget.
? Some great celebrants don't charge a lot. Some great celebrants charge more. If you have found the celebrant of your dreams then be prepared to pay what they ask.
6. Be aware that you may not be the only wedding a celebrant performs on that day. Keep your celebrant updated with your schedule
?
? and tell them immediately if any of your details change.
7. Be flexible. A lot can be done over skype/facetime/phone and email.
?️
? Face to face meetings are great but not always possible , you know celebrants have a personal life too.
8. Be open to suggestions and ideas.
? An experience celebrant has a lot to offer in terms of advice and nifty ideas, and not just to do with the ceremony but across the day.
9. Be trusting. You've hired the right celebrant – on the day have faith that they will do brilliantly for you.
? They will. So why stress about it?
10. Be thankful – leave great feedback, tell your friends. Nothing warms a celebrants heart more than feeling they have given their all to a couple and it has been appreciated.
?
?
?
Image Source Ben Howland